SmartDock Gen II SCBA Bracket
SmartDock is the Smart Choice!
When called into action, firefighters need to move quickly, and you shouldn't have to choose between sacrificing precious seconds to save others and your own safety. That's why more fire departments choose SmartDock, the first and only hands-free SCBA holder for fire apparatus. With no annoying straps or levers, SmartDock offers single motion SCBA insertion and hands-free release when the firefighter stands up to exit the seat. In the event of a collision, the top claws clamp down for a secure hold, preventing the cylinder from becoming a projectile.
SmartDock is engineered so one model fits nearly all SCBA's used in today's fire departments. With its low profile, SmartDock can easily retrofit to a wide variety of SCBA seats.
Put it to the Test!
SmartDock has undergone extensive testing to ensure that it meets or exceeds industry standards. When evaluated to the NFPA 1901 Standard for Automotive Fire Apparatus, SmartDock met requirements for retaining both the cylinder and the pack in dynamic testing. In addition, SmartDock is designed to operate effectively in the most severe environmental conditions to which fire apparatus are exposed. Lab testing validated the system's durability and functionality against corrosion, vibration, dust, high and low temperatures, and humidity.
Features
Hands-free SCBA bracket
No straps or levers to slow you down
In a collision, the top claws clamp down, preventing the SCBA from becoming a projectile
Engineered to fit most SCBA's
SmartDock can also be retrofitted to a wide variety of seats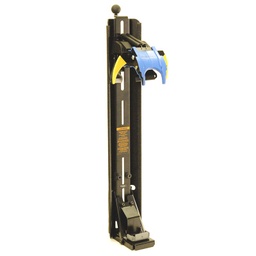 SmartDock Gen II SCBA Bracket