Bayco Nightstick NSP-4650B Helmet Mount Multi-Function Dual-Light Flashlight
Located just below the Flashlight and perfectly angled at 45 degrees to the flashlight, is a user-selectable brightness Floodlight. Since Floodlights don't have a reflector, the light pattern doesn't have a bright center spot, instead the Floodlight's soft unfocused light pattern is perfect for lighting up nearby objects.
Additionally, in Dual-Light mode (both the Flashlight and the Floodlight turned on at the same time) you can light up the distance and the ground at the same time for maximum versatility and user safety. It also has a green, rear facing LED light so that others can easily identify team personnel in smoke-filled or dusty environments.
This Mult-Fuction Light will fit on any fire helmet (or side-brim hard hat) regardless of whether it has an up-turned or down-turned brim thanks to the multi-angle adjustment feature that allows you to fine tune the exact position and angle of the light. This feature makes it possible to not only avoid goggles, face shields and other helmet-worn gear, but also place the light exactly where it's needed.
Features
Flashlight – Floodlight – Dual-Light™
CREE LED technology – 50,000+ hours LED life
User-selectable brightness on Flashlight & Floodlight including 15 Lumen Survival mode on Floodlight
Works with virtually all fire helmets and hard hats
Can be mounted to the brim on either side of most helmets
Allows user to select exact angle and position for optimum light alignment and clearance of face shields, goggles or other equipment
Rear-facing Green Safety LED
Cast from ADC12 aluminum alloy
Waterproof
Impact & chemical resistant
Meets the requirements for NFPA-1971-8.6 (2013)
Serialized for personal identification
Powered by 2 – CR-123 batteries (included)
Specifications
Light Output:

High: 220 lumens
Medium: 100 lumens
Low: 30 lumens

Run time:

High: 3.5 hours
Medium: 10 hours
Low: 33.5 hours

Beam Distance:

High: 183m
Medium: 120m
Low: 59m

3.2"l x 1.4"w x 1.1"d (8.2cm x 3.6cm x 2.9cm)
Weight: 6.5oz. (184g)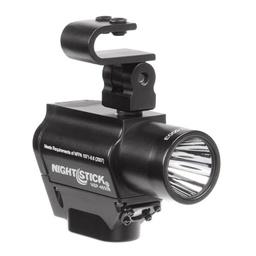 Bayco Nightstick NSP-4650B Helmet Mount Multi-Function Dual-Light Flashlight