FoxFury Command 20 Headlamp
Slim, lightweight 20 LED Headlamp fits nearly every fire helmet with a visor or face shield! No need for brackets to attach this light to your helmet. 3 modes with variable light output and a flashing rear red LED for enhanced safety and visibility. Fire and impact resistant and waterproof up to 1m. This head lamp meets NFPA Fire Resistant Requirements—500°F (260°C) for 30 minutes. 60 lumen white and green LEDs enhances depth perception and color rendition.
Light Emissions
60 lumens (754 Candle Power)
38° field of vision
Distance vision: 100 to 120 ft (31 m to 37 m)
Peripheral Vision: 48 ft (15 m)
Features
20 LEDs: 18 white and 2 green
Rear safety LED (red) for enhanced visibility
Tap switch
3 Modes

Mode 1: Center 4 (Multi-Chip LEDs)
Mode 2: Center 12
Mode 3: All 20

Fire resistant
Waterproof to 20ft (6m)
Impact resistant
Specifications
Weight: 8.4 oz. (239 g)

Headband: 1.5 oz. (44g)
Battery Pack: 6.9 oz. (195g)

Size: 4.8" x 0.7" x 1" (12.2 cm x 1.7 cm x 2.5 cm)
Polycarbonate housing material
Silicone coated; Teflon jacketed cable 
1" wide silicone strap with high temperature nylon buckle
Batteries
(4) AA Batteries (not included).
Battery Life:16-30 hours at Full Power (varies by mode); up to 40 hours on reserve.
Battery pack is not removable.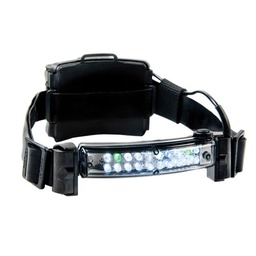 FoxFury Command 20 Headlamp