Hump Rack/Hose Rack - holds 38mm - 100ft-SJ or 50ft-DJ hose - WC
Hump racks are suitable for fire protection standpipes or any industrial hose storage.
Compact, neat, and economical method of storing collapsible hose
Rugged steel construction
Enamel finish for protection and appearance
Made of cold rolled carbon steel with Red enamel finish capable of holding up to 150′ of synthetic lined or 100′ of single jacked 1 1/2″ hose. Comes with open sides allowing for faster drying to prevent mold and mildew.
Dimensions:
A= 32″ (813mm)
B= 28″ (711mm)
C= 23.56″ (599mm)
D= 3.25″ (83mm)
E= 4.375″ (111mm)
F= 21.6″ (548mm)
G= 2″ (50.8mm)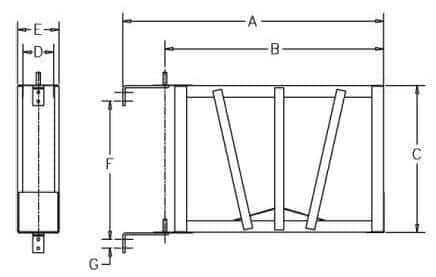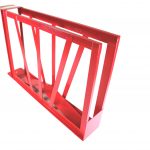 Hump Rack/Hose Rack - holds 38mm - 100ft-SJ or 50ft-DJ hose - WC