RollNRack Efficiency Package
The RollNRack Efficiency Package hose management system is designed for maximum efficiency. It includes both the Power Roller and the Go-Pack. While one firefighter uses the Power Roller to drain and roll hose lengths, another firefighter rocks the rolled hose onto the Go-Pack and transports it to the truck for loading.
Power Roller
Portable-90 lb base (battery pack & drain attachment are removable)
Drains & rolls approx. 5,000 feet of of LDH on a full charge (dependent on weather conditions, terrain, water in the line and battery charge level).
24-volt rechargeable battery pack.
Kussmaul battery meter.
Self-propelled, quiet operation.
Traverses pavement, gravel, dirt, and grass.
Safely load all hose sizes, 1.5" - 5" (LDH).
Comes with a choice of options (*specify 3 options), (1) battery pack & (1) charger.
Integrated, removable drain attachment lifts up & out of the way for safe hose roll removal. 
High-torque motor/gearbox is maintenance free. 
Brush whisks gravel & grass off the bottom of the hose. 
13" rear tires, 10" swivel tire - heavy-duty aluminum with stainless steel hardware. 
Draw 3" & smaller diameter hose to the unit.  
Go-Pack 
Aluminum frame and skid plate.
Stainless steel hardware.
Galvanized rollers with sealed bearings. 
Collapsible for easy storage. 
Powder coated.
26" L x 22" W x 27" H 

Collapsed: 38" L x 22" W x 9" H 

49 lbs (22.2 kg)
*Options - Choose (3):    5" Storz,  4" Storz,  4" NST,  2.5" - 3" NST,  1.5" - 1.75" NST,  extra battery pack & charger.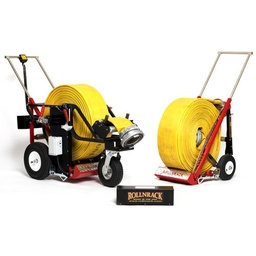 RollNRack Efficiency Package