TFT Transformer Piercing Nozzle Kit - NPSH
The Task Force Tips Transformer Piercing Nozzle is designed to deliver water or foam solutions to areas inaccessible to the fire fighter. A series of jets near the point apply a wide reaching pattern at a rated flow of 150gpm at 100psi.
The system includes a unique twist-grip shut-off valve, a 3 port junction block with striking head, 2 extension tubes, and the flow tube with piercing point.
The easy to use and rugged, twist-grip shutoff valve, regulates nozzle flow without the need for an additional shutoff valve.
The 3 port junction block and strike head allow the nozzle to be configured to short, medium, long and L shaped combinations, making it easily adaptable to specific fireground situations.
The Transformer Piercing Nozzle features a hardened point, is constructed of hard coated extruded aluminum, and includes a sturdy canvas carrying bag with compartments for each component.
Re-configurable for specific fireground situations
150gpm at 100psi
3 Port Junction Block and Twist-Grip Shut-off Valve
Hardened Point
1.5" NPSH inlet
Standard Package Includes:
Two 19" Extension Tubes
14" Flow Tube & Piercing Point
Twist-Grip Shutoff Valve
Striking Head & 3 Port Junction Block
Canvas Carry Bag
Deluxe Package Includes:
Everything in the standard package
Removal pistol grip
Spinning distributor nozzle* with 1.5" NH female adapter
*The distributor nozzle shall have a system of spinning heads for a wide, fully filled spray pattern.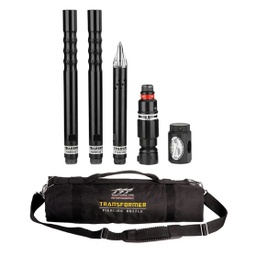 TFT Transformer Piercing Nozzle Kit - NPSH