Piercing Nozzle 38mm (1.5") - 3ft Length
Custom piercing nozzle to breach most materials with the use of a sledge hammer to drive through concrete block, mobile homes, vehicles, hay bales, etc.
Features
Designed to get water/foam to hidden trouble spots.
Flows of 95 gpm (360 lpm) @ 100 psi (7 bar).
Comes with 38mm (1.5'') inlet NPSH only.
Available in 3 ft (1m) length only.
Driving ram and point made of hardened steel. Impinging jets for a dense fog pattern.
Available in either slanted or cone tip.
Compatible with any type of foam.
Please note shut-off is not included and can be purchased separately - see related products for more details.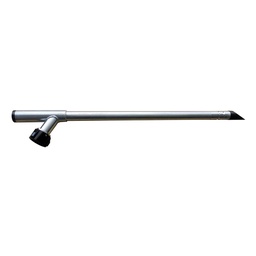 Piercing Nozzle 38mm (1.5") - 3ft Length