TFT Handline Automatic Nozzle 65mm (specify thread)
With a wide flow range of 70-200 gpm (260-760 l/min), the MID-MATIC™ mid-range automatic nozzle series is available as a handheld nozzle or electric remote monitor nozzle for use with the EF1 and Tornado monitor series.
Handheld:  The MID-MATIC can be used on 1.5" (38mm), 1.75" (45mm) and 2" (52mm) hoses and has operational pressure choices of 100, 75 or 55 psi (7, 5 or 3 bar). It features flush without shutting down, your choice of molded rubber bumper with "power fog" teeth or stainless steel spinning teeth, detent flow control, "Gasket Grabber" inlet screen, and patented TFT slide valve. MID-MATIC models are fully NFPA compliant, and are available in tip-only/ball shut-off configuration for break-apart operations, or with stainless steel slide valve, and optional colored pistol grip and handle covers. All nozzles accept low expansion or multi-expansion foam attachments. MID-MATIC's are also available with TFT's IMPULSE™ trigger valve system.
* Standard with this product is 38mm (1.5") NPSH thread, molded rubber fixed teeth and black grip and bale
Available other options upon request:
Metal spinning teeth
Color pistol grip and bales
Tip only no shut off
Folding handle
Trigger nozzle options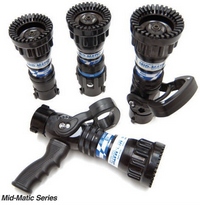 TFT Handline Automatic Nozzle 65mm (specify thread)