The Packexe SMASH Kit features a specially formulated adhesive film that holds glass together after it's been shattered, no matter the weather conditions.
The dispenser applies the adhesive film quickly, while the perforations on the film allow for easy, exact placement on the surface. The non-perforated hand roll can easily apply the adhesive on laminated glass inside and outside the vehicle to enhance safety.
Once wrapped, the glass can then be broken and removed in entire sections, reducing the risk of leftover shards during the extrication process.
On the other hand, since the SMASH Kit strengthens the glass by up to 42%, the glass can be left in place to allow for a faster extrication process. Durable and convenient, JYD Industries' Packexe SMASH Kit enables safer, more efficient handling of tempered and laminated vehicle glass at rescue scenes.
SMASH Kit enables safer, more efficient handling of tempered and laminated vehicle glass
Specially formulated adhesive film holds glass together after it's been shattered, no matter the weather conditions
Dispenser applies the adhesive film quickly
Perforations on the film allow for easy, exact placement on the surface
Non-perforated hand roll can easily apply the adhesive on laminated glass inside and outside the vehicle to enhance safety
Glass wrapped in adhesive can be broken and removed in entire sections, reducing the risk of leftover shards
Wrapped glass can also be left in place to allow for a faster extrication process
Kit includes:
(1) Dispenser
(1) SMASH roll (12.25" x 164' perforated every 4"; fits dispenser)
(1) SMASH roll (12.25" x 164' non-perforated hand application)
(1) Film Cutter
(1) Safety Knife
(1) Squeegee
(1) Cloth
(1) Carrying Bag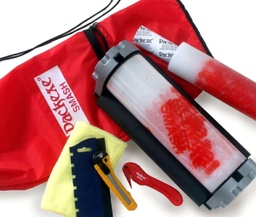 Pacexe SMASH Kit