CrewProtect Multi-Threat Air Filtration
Firefighters face significant risks today, not only during response, but after the call as well. After leaving a fire, personnel, clothing and equipment are contaminated with cancer causing particulate soot and some items will continue to off-gas VOCs (Volatile Organic Compounds) that can be inhaled for up to 45 minutes. In addition, medical responses and close quarters in apparatus, increase the chance for exposure to a range of bacterial and viral threats.
A COMPREHENSIVE AND SIMPLE SOLUTION
CrewProtect attacks all three significant problems for firefighters including Particulates, VOCs, and Aerosols carrying bacteria and viruses (including SARS-CoV-2, the virus that causes COVID-19). CrewProtect is a comprehensive and simple solution to help protect first responders from the multiple harmful and carcinogenic airborne contaminants that other filtration systems miss.
CrewProtect is a plug-and-play solution for new or in-service trucks that easily mounts to the roof, wall, or doghouse and connects to standard truck power, drawing only 2 amps.
Features
Automatically runs whenever the apparatus is in use
Filtering the air in the average cab every 3.5 minutes, which exceeds the air exchange rate of "clean rooms" and operating rooms in hospitals
Easy to change long life filters

Visually alerts you when the filter needs to be replaced
Plug and play installation connects to standard truck power
The filter system's patented technology is the ONLY fire apparatus product that tackles particulates, microbes, and VOCs
Options
CrewProtect 100 mounts on the ceiling, doghouse, or wall of your larger firefighting apparatus and runs at 100 CFM (Cubic Feet per Minute). 
​​CrewProtect 20 installs in your smaller vehicles such as the Chief's vehicle, tiller cab, or wildland truck. This unit runs at 20 CFM. 
How it Works
Mounts in vehicle

Connects to truck power

Automatically runs when the truck is operating

Removes particulates, VOCs, & aerosols carrying bacteria & viruses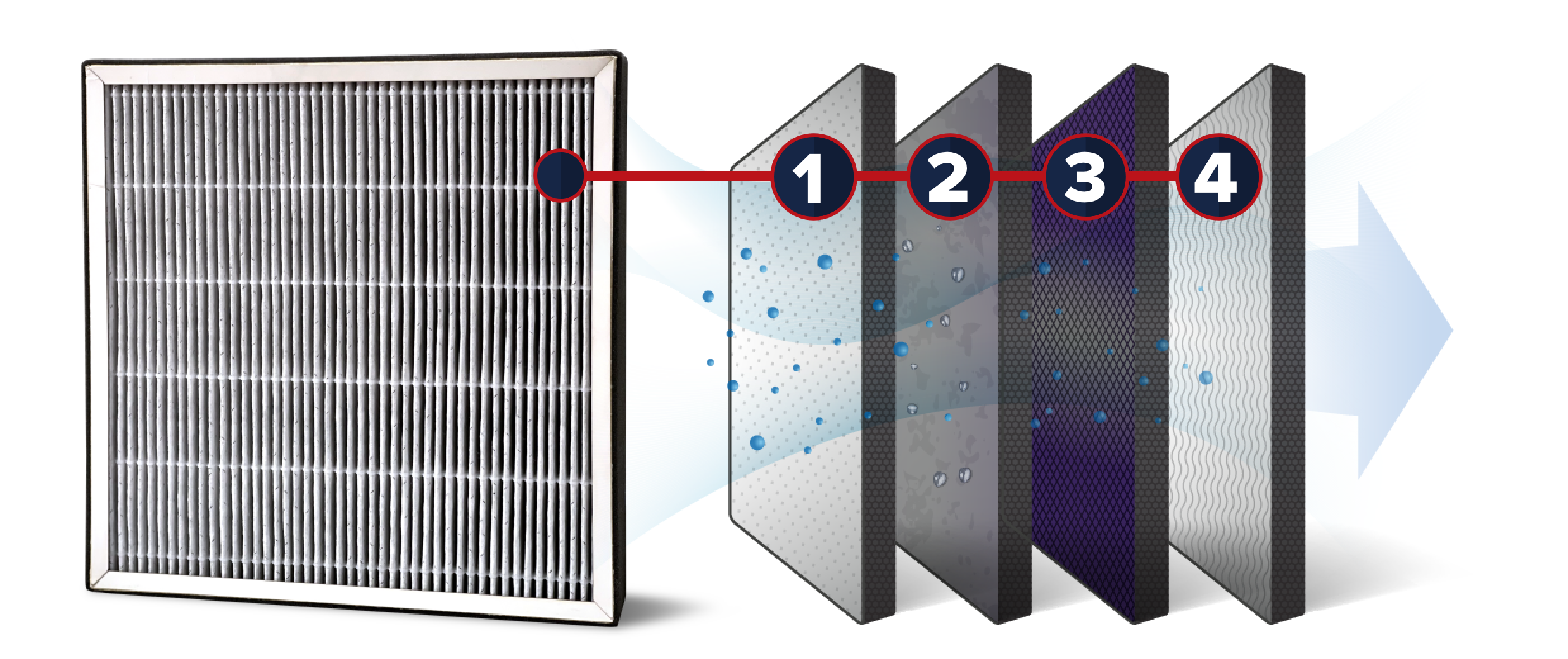 4-in-1 Filtration
Pre-Filter: Traps dust, pollen, and other large particulate matter.
PuraWard Fibers: A high efficiency filter protected by an embedded micro-technology containing an EPA registered antimicrobial additive using copper and silver ions to combat many bacteria and viruses.*
Molecular Filtration: Patented** molecular filtration media removes aerosols carrying viruses from the air, safely oxidizing the molecules, while removing toxic and harmful gases.
HEPA Filter: Captures PM0.3, PM2.5, allergens, bacteria, viruses, and other particulates.
*Filter protected by an EPA-registered antimicrobial additive. **Patent number US 9,370,763 B 
| | | | | | | | | |
| --- | --- | --- | --- | --- | --- | --- | --- | --- |
| | PuraShield Filtration Technology in Crew Protect™ | MERV13-MERV17 Particulate Filtration | HEPA Grade Filtration | UV Lights | Photocatalytic Oxidation (PCO) | Ionization Technology  | Activated Carbon | Chemisorbant Filtration |
| Removes large particles (dust, allergens, etc.) | | | | | | | | |
| Removes 99.97% particles of 0.3μm airborne contaminants | | | | | | | | |
| Does not generate hazardous airborne chemicals | | | | | | | | |
| Can remove some aerosolzed viruses, bacteria, and fungi | | | | | | | | |
| Removes broad spectrum of odours, carcinogens, and other vapor phase contaminants | | | | | | | | |
| Converts VOCs and other harmful vapours into benign by-products without potentially producing health hazardous species | | | | | | | | |
| No potential for desorption/reintroduction of adsorbed contaminants from filtration media | | | | | | | | |
| Performance is insensitive to humidity, temperature, and other environmental factors | | | | | | | | |
Specifications
Dimensions:

CrewProtect 100: 4.5" x 20" x 12" (115 x 508 x 305 mm)
CrewProtect 20: 7" x 6" x 4" (178 x 152 x 102 mm)

Power Draw: 12Vdc or 24Vdc @ 2A (~50W max)
Noise:

CrewProtect 100: 60 Db.
CrewProtect 20: 45 Db.

Air Flow: 100 CFM (2,832 l/m) or 20 CFM (566 l/m)

Filter: Single Filter, Multi-threat (Particulates, VOCs, Aerosols Carrying Bacteria and Viruses)
Filter Life Indicator: Color LED Light, RFID Technology
Filter Life: 1,800 Hours Active Usage or 4380 Hours of Intermittent Usage
Enclosure Material: Charcoal Grey Powder Coated Steel
Includes mounting brackets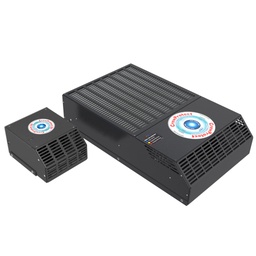 CrewProtect Multi-Threat Air Filtration