Large Diameter Hose/Hydrant Strap
The Large Diameter Hose Strap (LDHS) assists in getting your large diameter hose off the hose bed for attachment to a water source safely, and allowing the engine to proceed for fire operations.
Constructed of 3" nylon webbing, with a tensile strength of 22,550 lbs., and strong stitching with heavy brass rivets give this strap long life. This device allows the firefighter to pull the hose quickly off the rig and place it over a hydrant. Additional hose is secured with the hook & loop strap, which gives you plenty of spare hose for hydrant hook-up. To secure the hose a heavy hook & loop closure with a zinc plated adjuster allows for additional hose for hydrant operations. A hose release tab allows for operations with heavy firefighting gloves.
Color: Yellow
Length: 60" (1.52m)
Wt. 32 oz. (907g)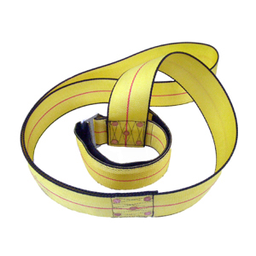 Large Diameter Hose/Hydrant Strap