Oil-Dri Quick Sorb Absorbent - 20 lb pail (min order of 3)
Quickly absorbs spills. Pour it on; sweep it off.
Recommended for warehouses, shops and garages.
Soaks up oil, grease, water and odors.
Economical container absorbs twice as much as Oil-Dri® bag.
DIMENSIONS:
Pail: 14-3/4" x 9-5/8" x 9-5/8"
MATERIAL:
100% Clay-based Fuller's Earth
Fine granules (Resembles sand)
SHELF LIFE:
Indefinite if stored in a closed bag/container in a dry tempered room.
COMPATIBILITY:
Can be used with:

Battery acid spills
Diesel fuel and gas

Will absorb any liquid, including oil-based products.
APPEARANCE:
Color may vary. Does not affect performance. 
USAGE:
Does not break down after absorption.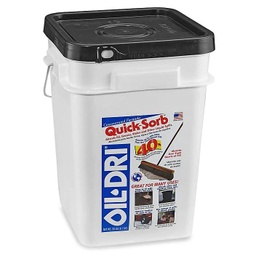 Oil-Dri Quick Sorb Absorbent - 20 lb pail (min order of 3)