Hazmat Sorbent Pad - 15" x 19" (Box of 100)
Soaks up spills of corrosive liquids, acids and bases.
Dimpled material is highly absorbent.
Perforated up the center
1/8" thickness
MATERIAL:
Polypropylene
One-ply construction
FEATURES:
Absorbs all oil-based, water-based and chemical-based fluids
Can be used with hydrochloric acid or fluid
Fire resistant, not fire retardant.

USAGE:
Can be placed on either side, there is no top or bottom
Not reusable
Not slip resistant
SHELF LIFE:
6-9 months when exposed to UV Light
CAPACITY:
SPECIFICATIONS:
Helps comply with 29 CFR 1910.22(a)(2) for maintaining floors in a clean, dry condition
Not USDA or FDA approved
PACKAGING:
Comes in a box (not bagged)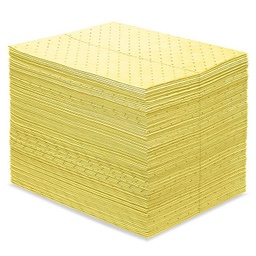 Hazmat Sorbent Pad - 15" x 19" (Box of 100)