XTEND Style Rescue Struts (Set of Two)
Junkyard Dog Industries XTEND Style Rescue Struts are an economical and proven solution for your stabilization challenges. XTEND Style Rescue Struts uses heavy-duty, top-quality, stainless-steel aircraft quality Locking Adjustment "T" Pins for quick and secure deployment. These simple, Self-Contained, lightweight, and easy to rescue struts work on the "tension buttress" principle for quick and secure deployment. They can allow even a single firefighter to stabilize a vehicle faster, better, and often far more easily than a team of rescuers with a truck full of cribbing and connectors.
Junkyard Dog Industries Vehicle Rescue Struts have proven, over and over, those in-vehicle rescue situations when time is critical, less equipment does do more.
Advantages
Less equipment does more work
One rescuer can carry two complete struts
Struts are easily applied by one rescuer
Lower cost than many alternative systems
Lighter, more compact design
Replaces quantities of cumbersome wood cribbing
All accessories are attached to the strut
Components:
(2) Rescue XTEND Struts
(2) Witches Hat Point Heads
(2) 90 Degree Heads
(2) Accessory Pouches
(2) Pickets
(2) Simpson Ratchet Straps
(2) Simpson Axle Straps
Specifications:
Contrasted with `4-gauge solid wall steel, and using top quality locking "T" pins and Simpson ratchet and axle straps, our struts are engineered to effectively accommodate conventional and ultra-modern vehicles construction features. Each rescue strut comes with a durable accessory pouch and is powder-coated for an enduring finish and is third-party tested to a rated weight of up to 5,000 lbs.
Self Contained for Easy Deployment
Polymer Coated Base for Better Grip
Base and Clevis Operate Separately so Base Will Stay Flat on Ground
Large Clevis Allows to Pass Through the Ratchet Strap Head for Single Strap Triangulation
Comes with Accessory Bag Attached to Strut and accessories all included
Simpson Ratchet and Axle Strap Rated at 1,300 lb
JYD Industries Rescue Struts come in two styles, each available in a variety of sizes to accommodate all of your stabilizing needs.
Weights:

Small:19lbs. (8.6kg)

Medium: 24lbs. (11kg)

Large: 27lbs. (12.3kg)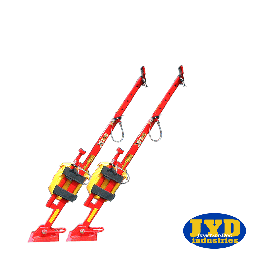 XTEND Style Rescue Struts (Set of Two)