We have everything you need to outfit your sprinkler trailers to deploy to protect structures during wildfires: wildfire sprinklers, portable pumps, high-pressure fire pumps, port-a-tanks, fire hoses, various adapters, and hand tools.
Choose from our standard configuration or choose your own quantities to customize your trailer.
Trailer is not included.

Standard Configuration

This kit is composed of the following:
Custom Configuration
Complete this form with the quantities of each item you require for a quote.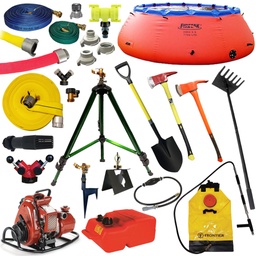 Wildland Trailer Package