Application: Typically used in warehouse and industrial applications. Also very popular for high-rise residential projects stored in fire hose cabinets. For storage of 1.5" (38mm) folded single jacket lined fire hose. Rack is attached to hose valve (or wall mounting bracket) and rack swivels 360°. Complete with positive water stop for one man use of hose (water is prevented from entering hose until the last fold is pulled away from the rack). Max. Service pressure is 150 PSI (1035 kpa).
Features:
Holds up to 100' (30m) of 1.5" (38mm) single jacket lined fire hose
Semi-automatic swing style
Factory Mutual approved
Positive waterstop for one person use
Steel body with option of red powder coat paint or chrome painting
Zinc plated corrosion resistant pins
Nozzle clip holder
Max service test pressure to 150 P.S.I.
Note: Rack not designed for outdoor installation
IMPORTANT:  Pin racks are NOT designed to store double jacket or rubber covered hoses.  For these types of hoses use hose reels, hump or saddle racks.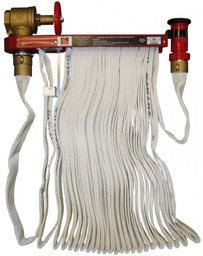 Fire Hose Swing Pin Rack