Tempest Fire Rescue Battery-Powered 14" Chainsaw HUSQVARNA 535i XP
Husqvarna® 535i XP battery-powered fire rescue chainsaws from Tempest deliver the absolute best in cutting performance but since it is battery-powered, the user is untethered from fuel. The 535i XP is a Husqvarna® powerhead designed for pros that need a lightweight, high-performance rear-handle saw.
LOW MAINTENANCE It is battery-powered, so there is no refilling of fuel, fewer parts to service and an electronically controlled drive system means less downtime and low operation costs.
CHAIN BRAKE Effective inertia-activated chain brake.
HUSQVARNA® SAVE™ POWER/RUNTIME MODE Choose between normal or savE™ mode, depending on conditions, for maximum power or maximum runtime. Either way, you'll always get a perfect result.
AUTOMATIC SHUTDOWN The product is automatically shut down after 3 minutes of being idle, which prolongs the life of the battery and also lower the risk for injuries when left unattended. With the chainbrake activated, the shutdown occurs after 30 minutes.
HIGH CHAIN SPEED High chain speed at over 65 ft/s (20 m/s) for fast, smooth cutting
ANGLE FULL WRAP HANDLE Angled ergonomic handle allows safe operation in any position and protects saw from damage.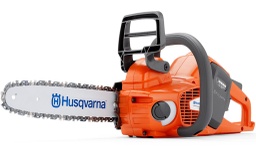 Tempest Fire Rescue Battery-Powered 14" Chainsaw HUSQVARNA 535i XP