Tempest BB-16 Battery Powered PPV Fan
A portable, battery-operated fan that is powerful and lightweight. Totally self-contained operation—there is no need for a generator or power socket.
Compact, Mobile & Low Noise Level
Folds up and stows easily in the locker of a vehicle: (2) BB-16 fans occupy the space of one conventional fan!
Portable by one person alone with carrying handle and strap
BB-16 brings far less noise than gas driven fans during operation.
Quicker to Set Up Than Conventional Fans
No time wasted searching for a power socket: starts off instantly.
No cable: avoids any accident.
Powerful Shaped Air Jet (NEO Technology) with Optimal Combination of:
Blades specifically designed for the motor power.
Patented system shaping an oval cone of air for increased performance.
Reinforced double-layer Monobloc shroud.
High-tech composite grill.
Benefits
Adjustable tilt from +65° to -90° with locking system (allows flat positioning to cover a manhole)
Integrated variable-speed drive BLDC, totally encolsed.
LED flow path lighting - positioned low for visibility below the smoke.
Built in charger: charge during operation
Battery charge indicator
Secure (flat) keypad to control all functions (no fragile button to turn for setting speed…).
Designed to be connected with ducts, foam adapter and "rehab" misting device if required.
Will run on main electricity if necessary (battery will charge at same time).
Multiple Applications—Can Be Used:
Indoors or outdoors: protected against splashing water (IP66).
On its own at a building entrance for PPV.
For PPV combined tactics with other fans:

As a relay in a corridor or stairwell.
For attack in front of an apartment door for offensive ventilation.

For extraction or blowing through ducts (optional).
As a foam generator with foam adapter (optional).
For rehab of the crew after intervention.
Specifications:
PPV air flow according to AMCA 240 Std: 10,300 cfm* (18,587 m³/h)
Noise Level: 76.3 dB at 10ft.
Propeller Diameter: 16" (41cm).
Operating Temperature: -20°C to +54°C  (-4°F to +130°F).
Engine: 0.8 hp / 600 W - variable speed drive BLDC Totally Enclosed – IP66
Power: Available in 110V or 220V options.
+65° to -90° adjustable tilt (allows flat positioning to cover manhole).
Battery: Removable 12.5 Ah / 585 WH Li-Ion - IP 65
Run Time: 50 min at full speed.
Charging Time: 100% in 3h with external quick charger
21"h x 22"w x 11"d (53.3cm x 55.9cm x 27.9cm)
Weight:

With battery: 51 lbs. (23.1 kg)
With out battery: 42 lbs (19.1 kg)

Li-ION battery with 200 recharge cycles.
Meets EN 50178 for user safety (leakage current less than 3.5 mA)
Warranty: 3 year on Fan, 1 year on battery.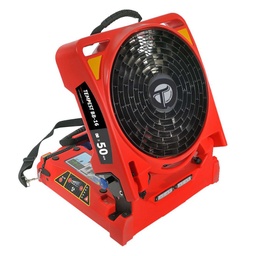 Tempest BB-16 Battery Powered PPV Fan