Tempest 565HD VentMaster Fire Rescue Chainsaw
PRODUCT CHARACTERISTICS
The VentMaster® 565-HD fire rescue chainsaws deliver the absolute best in cutting performance, built specifically for the fire service. Using professional-level Husqvarna® powerheads and Tempest exclusive after-market parts, no other saw compares in durability, reliability, cutting performance, and cutting versatility. Our fire rescue saws use the X-TORQ Engine Husqvarna® powerhead which increases torque over a wider RPM range for maximum cutting power. Our fire rescue chainsaws offer larger displacement, best fuel economy in its class, higher peak power, 20% more torque, and even better ergonomics for maximum productivity.
SEALED & PROTECTED CARBURETOR/AIR FILTER
35% better engine cooling due to cover design in relation to cooling fan design. Air Filter cannot be crushed or lost. Tool-less compartment entry for easy access to spark plug, air filter, inspection and cleaning of cylinder cooling fins. Greatly reduces filter clogs.
TOOL-LESS "KIS-40" DEPTH GAUGE
Accurately control cutting depth, protect operator and safely speed cut. Fast, simple installation and removal, and eliminates the need to "roll the rafters".
VENTMASTER® COBALT GUIDE BAR
Extremely hard COBALT alloy inserts at the wear points provide excellent wear, galling, and impact resistance. Retains these properties even at very high operating temperatures.
CENTRIFUGAL FORCE AIR CLEANING SYSTEM
Preliminary air intake cleaning rejects 97% of cutting residue and other airborne debris including drywall dust, concrete dust, smoke, water spray and more. Cleaner intake air means longer intervals between filter cleanings, longer runs at full power, less chain damage, smoother operation and reduced internal engine wear.
HUSQVARNA X-TORQ ENGINE
"SMART START" DECOMPRESSION VALVE
Valve reduces cylinder pressure for less starting resistance and easier starts.
RAPTOR CARBIDE CHAIN
Engineered specifically to withstand the rigors of fire and rescue operations. Features an "open dual raker" design to protect the carbide cutters and control the depth of cut.Tough and versatile enough to cut through:
Plexiglass, Lexan & Hurricane Glass
Tar and Asphalt Roofing
Nails
Light-Gauge Sheet Metal
Wire-Reinforced Belting
Trees and Green Wood
and More
PLATED STEEL SPLASH GUARD
Strong and durable to protect the saw during extreme cutting. Mounted with aviation-style star washers to prevent loosening due to vibration.
ANGLE FULL WRAP HANDLE
Angled ergonomic handle allows safe operation in any position and protects saw from damage.
ONE STEP START/STOP
Combined Choke/Throttle Lock/Stop Switch eliminates flooding and allows fast, convenient starting and One Push positive stop, even with gloves.
"SMART START" DECOMPRESSION VALVE
Valve reduces cylinder pressure for less starting resistance and easier starts.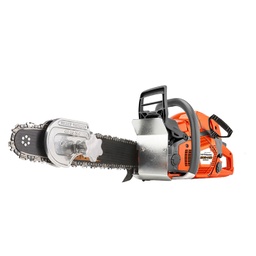 Tempest 565HD VentMaster Fire Rescue Chainsaw