Tempest 375K VentMaster Cutoff Saw 14"
The VentMaster 375K Cutoff Saw incorporates features found on no other cutoff saw on the market today. This lightweight unit provides for maximum power, versatility and durability. A perfect solution for price or size conscious departments. 
Specs: 
5.0hp, 74cc 

Husqvarna K750 powerhead 

4,650 rpm blade speed 

4.75'' (12cm) cut depth 

21.6 lbs (9.8kg)

Features: 
Smoother Operation, Reduced Wear

Centrifugal Force air filtration system mechanically filters 97% of airborne contaminants, preventing premature clogging. The cleaning system allows for longer intervals between filter cleanings and provides for smoother operation and reduced wear

Fast, Easy Starting

The unique Decompression valve reduces piston pressure during starting

The valve reduces required pulling force therefore making starting easier and reducing wear on starter parts

The large D-Ring Starter Handle and One Step Starting make the 375K faster and easier than the competition


Versatility for tough cutting jobs

The high-power and wide torque enables this saw to work with large diameter cutting discs for greater cutting depths

The reversible cutting arm allows for cutting in close, confined spaces

With its slim saw body and high center of gravity the 375K is handy and easy in tough situations and harsh environments


VentMaster Diamond Cutoff Saw Blades

KIS-360 Depth Gauge

Wet Kit

Stabilizing Roller Assembly

Active Air Filtration™

D-Ring Starter Handle

DuraStarter™

SmartCarb™
Specifications for Tempest 375K VentMaster Cutoff Saw
| | |
| --- | --- |
| Blade Option | VentMaster Diamond Blade or All-Cut Rescue Diamond Blade or Concrete Diamond Blade |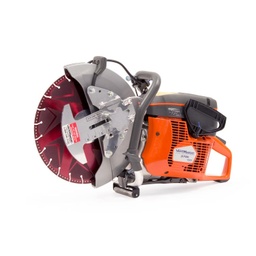 Tempest 375K VentMaster Cutoff Saw 14"