BIO FOR N Class A/B Foam 5 gal pail - BIOex *Vancouver Island WH*
It is the ecological solution to putting out solid fires (class A) thanks to its wetting and foaming properties. BIO FOR line additives provide optimum effectiveness when putting out solid fires: forest fires, urban fires, industrial fires, etc.
Wetting properties: Thanks to its affinity for solids, BIO FOR wetting and foaming agent penetrates embers deeply and puts them out. This specificity increases the extinguishing properties of the BIO FOR additive and prevents the fire from restarting.
Foaming properties: BIO FOR can be applied as a protective fire barrier. Indeed, the adhesive nature of this fire-fighting foam makes it possible for it to adhere to vertical surfaces for an extended period.
The application of a wide strip of BIO FOR during a forest fire for example, makes the vegetation fire proof and stops the progression of the fire. BIO FOR additives are also effective on hydrocarbon fires such as burning vehicles…
Features
BIO FOR foam is the ecological solution to solid fires (Class A), because it contains no fluorine derivatives or PBTs (Persistent Bioaccumulative Toxins).
It contains no halogen derivatives.
Over 90% of fire service interventions are for this type of fire. Fire brigades therefore have a direct interest in its ecological and biodegradable properties.
Perfectly suited to putting out class A fires (solids) and hydrocarbon fires.
The lower the concentration, the higher the autonomy.  BIO FOR makes it possible to increase the autonomy of firefighting vehicles  and use them more efficiently, reducing intervention times and making overhauling operations easier.  
Can be used from 0.2% (very concentrated) on class A and 0.5% on hydrocarbon fires
UL listed
Meets NFPA 18
European standards: EN 1568 1-2-3
Marine: VERITAS
Forest fire standards: CEREN Certificate, Draves test AATCC 17-2005
10 year warranty
Uses
Effective at Low, Medium and High Expansion
Compatible with all dosage systems (contains corrosion inhibitors
Applicable on class A fires: 

Forest fires: brush, trees...
Urban fires: apartments, houses, farms, warehouses, vehicles...
Industrial fires: landfills, textiles, plastics, tires...

Applicable on hydrocarbon fires such as vehicle fires
Can be used in mobile and fixed fire fighting systems (foam box, Hight Expansion generators, fire hose stations, CAFS system, etc.).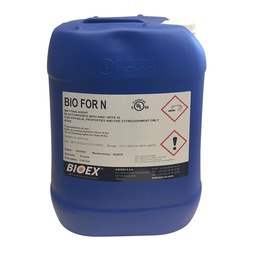 BIO FOR N Class A/B Foam 5 gal pail - BIOex *Vancouver Island WH*