Traffic Baton with Tripod Stand
This collapsible traffic baton tripod stand with 900 series traffic wand. Set up the tripod stand with a lighted or flashing baton and use as a hands free warning system.  Use this baton stand to keep wands upright on any flat surface. A perfect way to attract attention to your display table at special events or a roadside emergency.
Arrange stands with lighted batons to attract attention at a trade show
Direct pedestrians along a lighted pathway using batons in these stands
Made of ABS plastic
3 collapsing legs with black rubber feet to help stabilize the traffic baton
Baton handle is inserted into the tripod stand and will stay in place until you no longer need to use.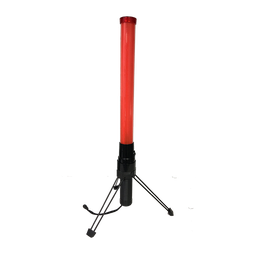 Traffic Baton with Tripod Stand