Simulaids I.A.F.F. Rescue Randy with Additional Reinforcement -165lb -Light
Designed with the help of the International Association of Fire Fighters. Developed for lifelike adult or juvenile patient handling, transportation, and extrication training. This manikin can be safely used in situations too hazardous or uncomfortable for human volunteers. Made of tough cast vinyl with zinc-plated steel frame for longevity and rugged use. Manikin is fully articulated for positioning in widely diversified training environments. The manikin can be seated in an automobile, positioned in a smoke-filled room, and immobilized on a stretcher for mountain rescue instruction. Used by the U.S. Military, Fire, and Police Departments, Safety Teams, and Emergency Personnel for rescue and extrication from pole tops, confined spaces, collapsed buildings, smoke rooms, and ladder carry-down protocols worldwide.
Perfect to use with the Manikin Moulage Kit (8006701U) for casualty simulation. Includes additional reinforcement to increase durability. Made of durable vinyl with 4,100-lb. test plastic-coated cables. Features include: articulated joints and weight distribution according to human weight distribution chart. Clothing not included. 6 ft. tall. Three-year warranty.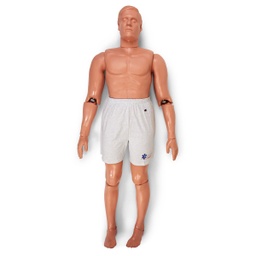 Simulaids I.A.F.F. Rescue Randy with Additional Reinforcement -165lb -Light