Tempest Fire Rescue Battery-Powered Cut Off Saw HUSQVARNA K535I
Put a superior next-generation battery product to the test on your commercial crew. Husqvarna's® K535i battery power cutter delivers professional performance. The excellent power-to-weight ratio makes the product a versatile addition for lighter landscaping or hardscaping jobs. Boasting high power and low noise, the K535i has comfortable handles and perfect balance. The K535i is adaptable for wet or dry cutting. Compatible with Husqvarna BLi200/ BLi300 batteries.
Features
One battery system: You can easily move the battery from one product to another without interrupting your work.
The slim design and low weight makes it easy to lift, control and maneuver during operation, which combined with exceptionally low vibrations makes this an ideal machine for lighter concrete jobs.
Smart battery placement: The side-feeded battery placement maximizes cooling and minimize slurry and dust containment.
Intuitive keypad: For perfect control, the intuitive keypad is designed for quick commands and features a SavETM function for maximum runtime.
Efficient brushless motor: The in-house developed, advanced brushless motor is 25% more efficient than a standard brush motor. This means that the motor provides a high and consistent torque.
Perfect balance: The centered placement of the blade provides increased stability and control.
The handles are specially developed to be comfortable and increases control for extra safety while cutting.
A foldable rope eyelet integrated in ground support for maximized convenience.
Electric blade brake: For increased safety and ease of use, the blade will stop its rotation – from full throttle to zero in 3.1 seconds.
Specifications
1.2 kW output power
Cutting depth, max: 3" (76mm)
Blade diameter, max: 9" (23cm)
Arbor diameter: 0.87" (22.2mm)
Blade thickness, max: 0.12" (3mm)
Peripheral speed, max: 13,800 fpm (70m/s)

22"l x 8.66"w x 12.2"h (56cm x 22cm x 31cm)

Weight 7.7 lbs (3.5kg)

Sound pressure level at operators ear: 100.5 dB(A)
Vibrations left/front handle: 2.1 m/s²
Vibrations right/rear handle: 2.5 m/s²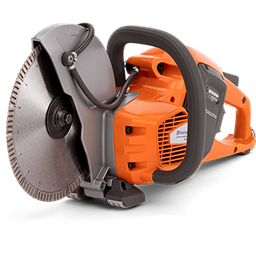 Tempest Fire Rescue Battery-Powered Cut Off Saw HUSQVARNA K535I