Hose Bridge Rubber - Dual Channel for hose up to 2.5"
This Rubber Hose Ramp is designed to protect large hoses and cables from heavy vehicle drive overs. These industrial strength ramps are ideal for fire engines and other heavy equipment to cross over supply lines or master stream hoses.
Two channel rubber ramp is made from thermoplastic rubber
Durable and abrasion-resistant rubber
Embedded reflective yellow strips and glass beads for greater visibility at dark
For 2 3/4″ diameter hoses or large diameter cables
Dual channels keep hoses straight and withstand over 2000 psi pressure
Two rubber dog bone connectors are included to connect multiple units
Channel Dimensions: 3-1/2″ x 2-3/4″
Ramp weighs 28 lbs
Weight bearing capacity of 44,000 lbs per axle
Must have 4″ or greater clearance for proper use
Suitable for indoor and outdoor use
1 year manufacturers warranty.
A suitable cable ramp at high traffic areas, industrial sites, warehouses, construction zones and factories.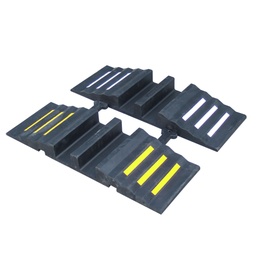 Hose Bridge Rubber - Dual Channel for hose up to 2.5"