Leader Rehab Misting Collar w/ 19mm (3/4") GHT fitting - for BATfan 2
With its very fine mist, the rehabilitation mister is perfect to facilitate the physical recovery of the responders after fire operations. In addition, it allows learners' training sessions to be extended by keeping them cool.
EASY AND QUICK TO INSTALL Attached to the fans by two single straps, the rehabilitation mister installs in seconds.
General Characteristics
FLOW RATE: 0.2 GPM @ 87 PSI
WEIGHT: 1.87 lbs without coupling
DIMENSIONS: 21.6″w x 14.1″h x 2.7″d (55cm x 36cm x 6.9cm)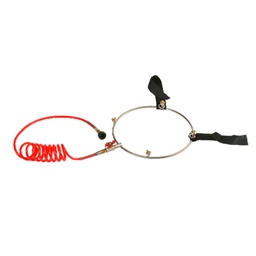 Leader Rehab Misting Collar w/ 19mm (3/4") GHT fitting - for BATfan 2