Application:  Flush design when appearance is a factor.  Double Inlet Fire Department connection with 500 GPM inlet capacity used to supplement water supply in standpipe or fire sprinkler systems.  (REF. NFPA No. 14) 
The body is complete with two drop clappers.  The clappers ensure that if one of the servicing hoses bursts, the flow of water will not be interrupted.  The clappers also allow for a single hose connection from the Fire Department pumper. 
Construction:  Cast Brass Body, Brass Plate, Brass Swivel Adapters (Snoots) and Brass Plugs. All exposed services standard with polished finish.
Rated Pressure: 300 PSI /2068.50 kpa 
Approvals:  ULC & UL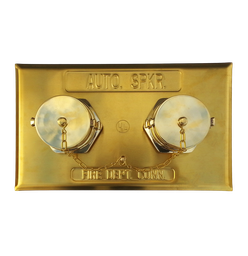 Recessed Siamese