Kappler Zytron 500 Fully Encapsulating (Vapor) Suit - Front Entry - LG/XL - Orange
Zytron® 500 Vapor Total Encapsulating Suit. 
NFPA 1994 Class 2 Certified Edition. Berry
Compliant,Front Entry AquaSeal® Gas-Tight Zipper, 
Expanded View AntiFog Visor System, Double Storm 
Flaps with Hook & Loop Closure, Expanded Back, 
Field Replaceable 2N1® Glove System and Removable 
Knitted Kevlar Overgloves, Attached Sock Booties with 
Splash Guards, 2 Exhaust Valves and Radio Pocket.
Double Heat Sealed/Taped Seams.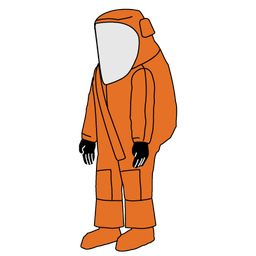 Kappler Zytron 500 Fully Encapsulating (Vapor) Suit - Front Entry - LG/XL - Orange