Frontier Rescue Raft/Boat SCBA Spider Fill
Inflate your Frontier Rescue Raft/Boat faster with the Spider Fill. The Spider Fill comes with five valves with independent shut-offs to connect to each valve of the Raft/Boat and can be hooked up to a standard 2216/4500psi SCBA bottle.
Note: It is important to not over fill the boat as it is designed to hold 5psi maximum and the floor is 10psi maximum.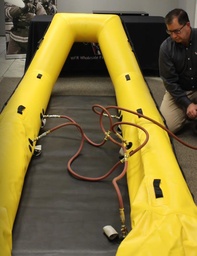 Frontier Rescue Raft/Boat SCBA Spider Fill