Butterfly Valve with bleeder - Lever Handle - 150mm (6") NHT Female swivel x 150mm (6") NHT Male - Kochek
The Inner Disc closes off the flow.
Rotating the handle to open the disc a quarter turn allows an almost unrestricted water flow.
The 10 position Lever Handle, with positive detents allows the valve to be opened or closed incrementally for a controlled water flow.
Comes standard with Bleeder Valve.
Available with Threaded, Storz, Camlock connections, Hand Wheel and other sizes.
Weight: 45 lbs.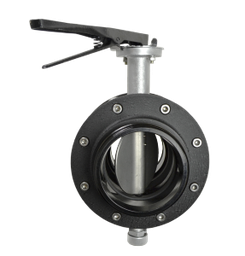 Butterfly Valve with bleeder - Lever Handle - 150mm (6") NHT Female swivel x 150mm (6") NHT Male - Kochek