Mill-Spec Tubular Webbing - PMI
Built to exacting military specifications, the durability and strength of this 1" tubular webbing makes it a perfect choice for rigging anchorages, runners, slings, and more for rescue and work and height.
For all types of rigging
Black tracer on one side.
2 colors available in 1"
Spools may contain splices
Weight:

0.037 kg / yard (1.3oz/yard)

115 yard spool: 4.3 kg (9.5 lbs)

MBS: 18 kN (4,000 lbf)
Material: Nylon
Custom lengths and/or widths are available upon request.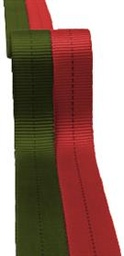 Mill-Spec Tubular Webbing - PMI