GearGrid - Wall Mount Storage Shelves w/ Hanging Rod
Gear bags, tool cases or extra storage for just about anything. This heavy-duty shelf features tubular steel framing with gusseted support wires and boasts a weight capacity of 150 lbs.
Specifications
Available in 4' and 6' widths
Shelves are 18-5⁄8" deep
GearGrid's Wall Mount Equipment Storage Shelves provide the ultimate modularity and flexibility for storing athletic gear and equipment. Teams and organizations can maximize space by utilizing unused wall space for additional storage. Conveniently store a variety of equipment, such as uniforms, helmets, shoulder pads, totes, bags or any other athletic equipment.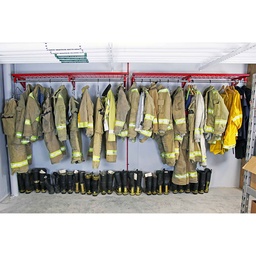 GearGrid - Wall Mount Storage Shelves w/ Hanging Rod