GearGrid GearCart Hose Dryer
Add the GearCart Hose Dryer for the ultimate hose drying solution. Loop hose through the attachment for a quick, convenient drying process.
The heavy-duty design allows fire departments to dry hose within a limited amount of space.
Specifications
75"w x 24"d x 82"h
Frame is heavy-duty 1.25" steel tubing
Grids are high-strength 1/4" steel wire, 3" x 3" square grid pattern   
Locking casters handle up to 950 lbs. each
Super Durable TGIC powder coat finish
7 standard colors available: Red Baron, Burgundy, Monarch Black, Autumn White, Blue Streak, Crane Grey, and Evergreen.
With simple tools it's fast and easy to assemble
Ships knocked down for ease of handling and reduced shipping costs
Assembly is fast and easy with simple tools.
 *All GearCart Hose Dryers come standard in BLACK. Other colors are available upon request: Burgundy, Red, White, Blue, Grey, Green.*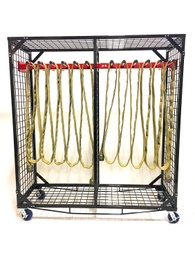 GearGrid GearCart Hose Dryer