Freestanding Elevated WFR Monitor
Elevated monitors are ideally suited for problem applications that are difficult to reach from ground level with fixed or portable equipment. Typical installations include dock protection and high hazard petrochemical areas. Elevating the monitor serves high-hazard areas that may otherwise be obstructed, putting the monitor at the appropriate height to reach the target.
Freestanding monitors range from 10 to 42 feet (3 to 13m) depending upon the flow/distance requirement and water/pressure available for the application. Freestanding monitors have an "inner" waterway with an outer drive tube for horizontal movement at the base, along with vertical motion handle control with stainless steel cable attached to the monitor for vertical option.
Waterways available in 2.5" (64mm), 3" (76cm) and 4" (102cm), depending on flow rate
360° horizontal motion ± 45° vertical motion with position locks in each plane
Red epoxy coat monitor finish
Galvanized steel drive tube
Stainless steel elevation cables
Elevation and rotation locks
Vertical motion control handle
Options
WFR straight tips
Flow straighteners to maximize reach
Above ground intake base assembly and inlet butterfly valve
Manual hydraulic pump (for fog nozzle actuation)
Pump to nozzle installation kit/remote swivels grease kit
Manual drain for freeze protection
Heat shield
Sizes:
15' (4.6m)
20' (6.1m)
25' (7.6m)
30' (9m)
35' (10.6m)
42' (12.8m)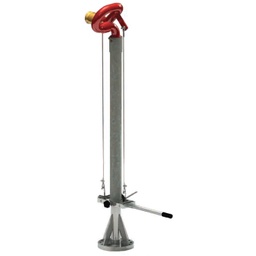 Freestanding Elevated WFR Monitor