Forestry Hand Pump Only - Scotty Bush/Backpack
Forestry Hand Pump Only - Scotty Bush/Backpack
Water Hand Pump:
Single action pump with brass inner chamber and piston 

Outer pump sleeve made from super tough, engineering-grade polymer making it durable and lightweight 

Incorporates easy to pump Duckbill check valve system 

Adjustable nozzle produces super fine jet stream and a full cone fog spray 

Effective reach of stream 30ft (9m) Jet, 15ft (4.5m) Full Cone 

19mm (0.75'') GHT quick hose connection 

Weighs: 22oz to help reduce user fatigue. 

Total length: 26'' (66cm) 
  Foam Hand Pump: 
All the components and features of the above water hand pump apply, with the addition of a foam eductor, foam reservoir and air-aspirating nozzle.

Eliminates the need to batch mix foam in the backpack 

Each time the pump draws in water, foam concentrate is educted at 1% into the pumper chamber 

The air-aspirating nozzle generates foam when the pump is discharged 

Foam reservoir will hold 17 fl oz (500ml) of Class-A or Class-B Foam which will mix with approximately 25 gallons (95L) of water.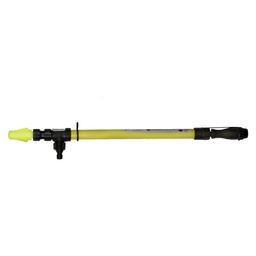 Forestry Hand Pump Only - Scotty Bush/Backpack