Dry Hydrant Strainer w/ Back Flush Cover
6" and 8" (2.5ft long) Strainers
Both include a clappered end cap.
Light-weight 6061-T6 Aluminum Alloy on connectors, Schedule 40 Standard PVC for the piping.
All parts meet or exceed NFPA requirements.
8" (5ft long) Strainer
Strainer made of Schedule 40 PVC pipe to ASTM D1785.
Drilled with 1,840 3⁄8″ holes, each chamfered.
Strainer open area approx. 125 sq. in. (6″), 200 sq. in. (8″).
Both ends machined square.
Outboard end has PVC clappered end cap.
Includes 8″ x 6″ reducing adapter.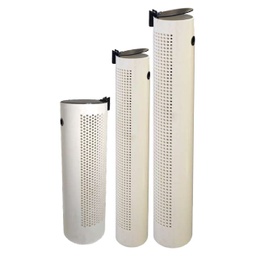 Dry Hydrant Strainer w/ Back Flush Cover