Machined from 12.5-mm (1/2-inch) plate, our classic Rescue 8 design has been refined for even better performance with today's selection of life safety rope. Descenders no longer routinely use 16-mm (5/8-in) rope, so the smaller dimensions of our Rescue 8 provide greater control. The proprietary black finish on the aluminum model provides outstanding wear resistance, while the nickel-chrome-plated steel model excels in high-wear situations, such as sandy, gritty environments. The extended carabiner hole accommodates multiple carabiners.
* Certified range of rope diameters and CMC's recommendation for best performance.
About CMC's Super Black Finish
The CMC 3D, Rescue Rack, Rappel 8, and Rescue 8 products feature an exceptionally long-wear proprietary finish because typical hard or soft anodizing on aluminum descenders eventually wears through. This finish also prevents transfer of material onto the rope, common with bare aluminum components. After years of heavy use, our products and test samples with this Super Black Finish continue to be used in CMC School classes without showing any indication of the finish wearing through.
Rescue Industry Applications
The Rescue 8 descender is a type of descent device commonly referred to within the technical rescue industry as a figure eight descender and is used for rappelling and descent maneuvers in the field in search and rescue (SAR), urban search & rescue (USAR) and has solution applications for fire rescue and industrial rope access
| | | | | | |
| --- | --- | --- | --- | --- | --- |
| Model | Color | Weight | Large Hole | Rope Size (Diameter) | NFPA Rating |
| Aluminum | Black | 6.6oz (187g) | 65mm (2.5") | 13mm (1/2") / 9.5-13 mm (3/8"-1/2") | General & Technical Use |
| Steel | Chrome | 1.2 lbs (539g) | 65mm (2.5" ) | 13mm (1/2") / 9.5-13mm (3/8"-1/2") | General & Technical Use |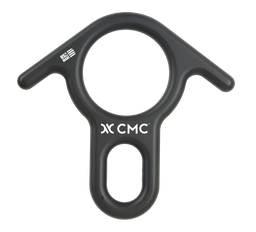 CMC Rescue 8 Descender