Bladder (Pillow) Tank - 30oz. PVC - Husky
MULTI-PURPOSE LIQUID STORAGE
Husky® Flexible Bladder or Pillow Tanks have many practical uses. Our potable models are a great option for storing drinking water, and we have other materials specifically for storing fuel or other chemicals. Learn more about our Fuel Bladder Tanks or Chemical and Wastewater Storage Bladder Tanks.
Husky® Bladder Tanks, Pillow Tanks, and Potable Water Bladders have been used on farms, at nurseries, for firefighting, and to provide drinking water for disaster victims.
We can make them small enough to fit in a backpack, or large enough to haul on a railcar.
USES
Bladder tanks have many practical uses:
Providing drinking water storage for disaster area victims.
Wastewater containment.
Rainwater collection for irrigation systems.
Water storage for greenhouse nurseries.
Farming, watering livestock or treating with insecticides.
Fuel storage, diesel, jet, etc.
Gray water storage for pressure washing systems.
Water storage and transport for Firefighting.
Blackwater (sewage) containment.
Railcar tanks.
SPECIFICATIONS
25 gallon to 25,000 gallon tanks available.
Material: 30 oz. Acrylic PVC.
NSF 61 (potable for drinking water), food-grade (wines, juices, vegetable oils, molasses, etc.), gray water.
Included Valves & Fittings:
25 -100 Gallon tanks - (1) 4" fill port inlet and (1) 1.5" valved outlet
150 - 500 Gallon tanks - (1) 4" fill port inlet and (1) 1.5" valved outlet
600 - 1,000 Gallon tanks - (1) 1.5" inlet w/ plug and (1) 1.5" valved outlet 
1,250 - 5,000 Gallon tanks - (1) 2" inlet w/ plug and (1) 2" valved outlet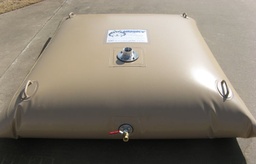 Bladder (Pillow) Tank - 30oz. PVC - Husky