Hero Wipes - Case of 12 packs (48 wipes/pack)
Safe. Effective. No-Nonsense.
These are the original decontamination wipes, specially formulated and proven to remove up to 99% of harmful carcinogens from firefighters' skin.
Features
48 wipes/pack.

Proper decon is crucial. Clean skin and eliminate carcinogenic compounds before leaving the scene of fire.


Proven scientific, third-party results


Remove up to 98% of toxic flame retardant TCEP with a single wipe.

Remove up to 83% of Benzopryene (BaP) with a single wipe.

Thick, tough, stretchable, and virtually indestructible 10" x 9" wipes are larger compared to average baby wipes.
How to Use
Always follow a standard decontamination protocol practiced by you and your crew. Wipe vigorously to clean affected areas. If necessary, utilize multiple wipes to cover large areas. Throw used wipes in trash. Do not flush.

Optional metal brackets for permanent installation can be purchased separately - see Accessory Products tab below.
Ingredients:
Water/Aqua/Eau, Propanediol, Aloe Barbadensis Leaf Extract, Chamomila Recutita (Matricaria) Flower Extract, Cucumis Sativis (Cucumber) Fruit Extract, Althaea Officinalis Root Extract, Avena Sativa (Oat) Kernel Extract, Decyl Glucoside, Polyglyceryl-10 Caprylate/Caprate, Coco Glucoside, Glyceryl Oleate, Polysorbate 20, Tetrasodium Glutamate Diacetate, Trisodium Phospate, Citric Acid, Caprylyl Glycol, Sodium Benzoate, Potassium Sorbate, Phenoxyethanol, Sodium Hydroxide, Fragrance/Parfum (Hexyl Cinnamal, Dodecahydro-Tetramethylnaphthofuran, Benzyl Acetate, Citrus Aurantium Bergamia (Bergamot) Fruit Oil, Octanal, Decanal, Lauraldehyde, Citronellal, Beta‐Caryophyllene, Geranyl Acetate, Elettaria Cardamomum (Cardamom) Seed Oil, Cis-Jasmone, Limonene, Neryl Acetate, Octyl Acetate, Gamma Terpintene, Terpineol Acetate, Alpha‐Terpineol, 4-Terpineol, Caproic Acid, Geraniol, Orange Carbonyls, Nerol, Citrus Nobilis (Mandarin) Oil, Citrus Reticulata (Tangerine) Oil, Citronellol, Citronellyl Acetate, Coumarin, Allyl Cyclohexyloxyacetate, Dihydromyrcenol, Dipropylene Glycol, Ethyl Acetoacetate, Ethyl Linalool, Ethylene Brassylate, Pentadecalactone, Floralozone, Geraniol, Guaiacwood Oil, Methylenedioxyphenyl Methylpropanal, Allyl Alpha-Ionone, Hexenyl Acetate, Beta‐Ionone, Lavandula Hybrida (Lavandin) Oil, 3-Hexenol, Citrus Limon (Lemon) Peel Oil, Cis‐3‐Hexenyl Methyl Carbonate, Butylphenyl Methylpropional, Linalool, Linalyl Acetate, Acetyl Cedrene, Methyl Dihydroxy-Dimethylbenzoate, Nerolidol Isomers, Myristica Fragrans (Nutmeg) Kernel Oil, Phenethyl Alcohol, Sandela, Vanillin).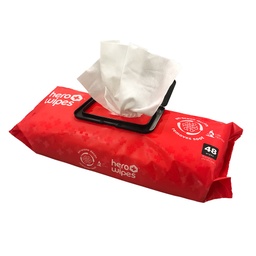 Hero Wipes - Case of 12 packs (48 wipes/pack)