Frontier Firefighter Wheeled Gear Bag (32"L x 17"W x 17"H)
This gear bag features partially recessed wheels and a luggage-style retractable handle that stows away into a zippered compartment when not in use. The back and bottom are covered with abrasion resistant material and all of the edges have cording to protect the fabric from wear and tear.
Rear and bottom are reinforced with diamond-embossed waterproof PVC
All corners and high-stress areas are rubber reinforced and bar tacked
Fully molded back and bottom allows back to stand up on it's own
Retractable luggage-style handle can be "zipped" away
Larger bag than our competitors
Large top flap opens the full length of the bag for step-in access to gear
Feature a unique venting system under the side flap
Hi-Vis lime-yellow/silver triple trim reflective on front and rear
Overall Dimensions 35"l x 20"w x 25"h
WFR also recommends keeping your gear clean with gear cleaner for your good health.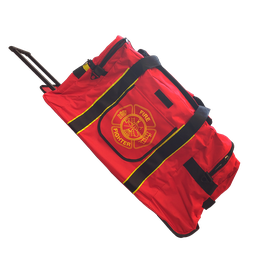 Frontier Firefighter Wheeled Gear Bag (32"L x 17"W x 17"H)