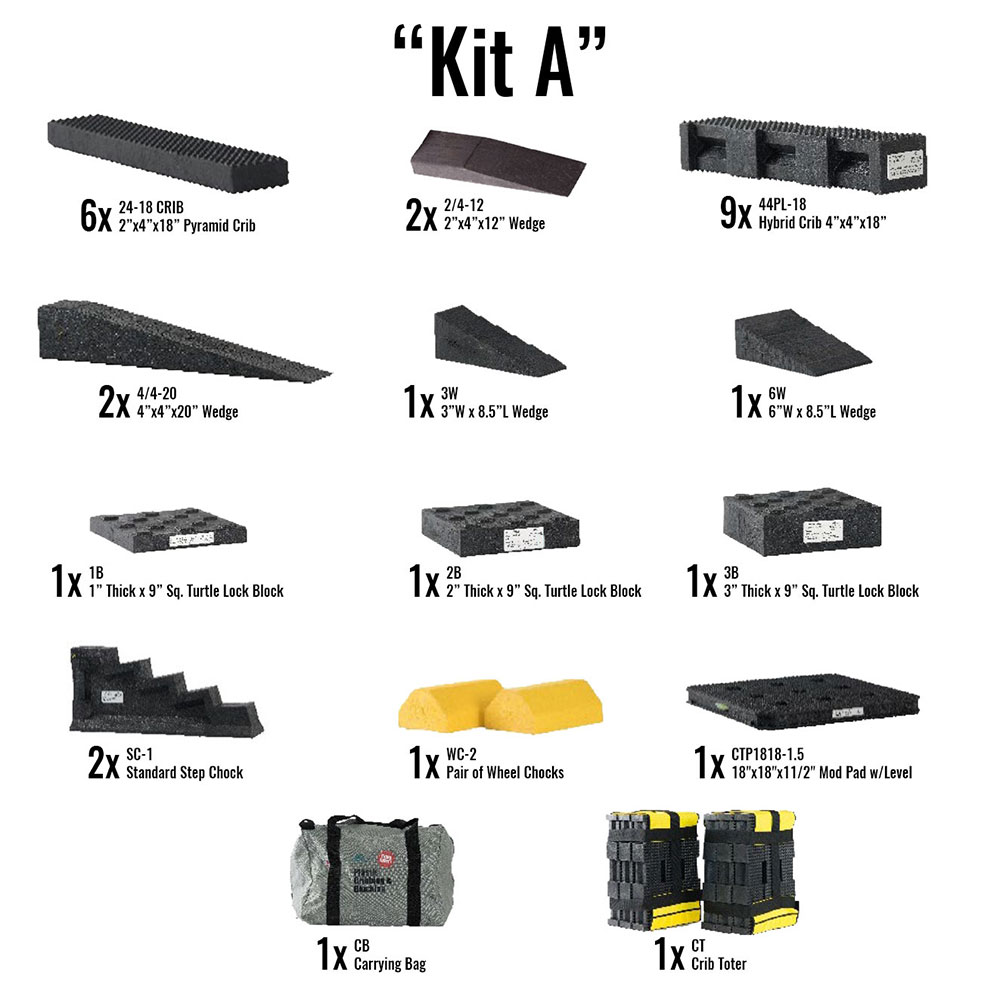 Auto X Crib Tool Kit A
---
Free shipping applies to orders over $500 and some items may have additional freight costs
Simplify your online ordering by setting up an online account for your pricing level.
Components:
(6) 2" x 4" x 18" Pyramid Crib
(9) 4" x 4" x 18" Hybrid Crib
(2) 2" x 4" x 12" Standard Wedge
(2) 4" x 4" x 20" Standard Wedge
(1) 3" x 8.5" Stepped Wedge
(1) 6" x 8.5" Stepped Wedge
(1) 9" x 9" x 1" Turtle Lock Block
(1) 9" x 9" x 2" Turtle Lock Block
(1) 9" x 9" x 3" Turtle Lock Block
(2) Standard Step Chock
(1) Double Wheel Chock
(1) 18" x 18" x 1.5" ModPad
(1) Top Bag Pad
(1) Carrying Bag (optional)
(1) Crib Toter (optional)
Bonus (1) 24" x 24" x 2" ModPad
Features
Total Kit weighs 116.5kg (257lbs.)Pyramid Crib has a slip-resistant pyramid locking surface creates a strong, stable base
Hybrid Crib

The new standard in light application cribbing/blocking
Two surfaces in one crib
Pyramid design securely locks
Locking "lincoln log" style sides allow for additional stability and multiple stacking configurations
Lanyard on one side of block
Working load limit 20,500 kg (45,194 lbs.)

Standard Wedges have a smooth surface and convenient lanyard
Stepped Wedges have 3" high stepped top surface slopes downward for improved grip with an optional convenient lanyard
Turtle Lock Block

Create a stable platform on many surfaces
Versatile stackable blocks
Unique square peg surfaces interlock with each other
Available in three sizes: 1", 2", and 3" heights
Use as spacers or dunnage
Lightweight, easy to carry

Standard Step Chock

Quickly stabilize passenger vehicles
Lightweight
Built-in hand hold

Wheel Chocks

Prevents accidental movement onto workers
Use at both front and back of tire for extra security
Versatile for use in fire departments
Very affordable
"Oops-proof" lanyard reminds you to chock both front and back of tire
9.5"l x 5.875"w x 3.625"h

ModPad

Multi-use interlocking stabilizing plate for top and bottom of crib stacks
Use on top of crib stack to provide a level, uniform top, and on bottom of crib stack, with wedges, to achieve optimum level
Use under an air lifting bag
Built-in level
Patented design
18" x 18" working load limit: 54,431 kg (120,000 lbs.)
24" x 24" working load limit: 102,058 kg (225,000 lbs.)

Top Bag Pad

Flexible rubber plate used to protect lifting airbags from unseen objects
18" x 18"
There are no alternative products.
There are no accessory products.
This is a preview of the recently viewed products by the user.
Once the user has seen at least one product this snippet will be visible.
Recently Viewed Products