KN95 smoke and dust anti-bacterial Mask w/ Exhalation Valve (12-pack) excellent for forest -grass fires
The KN95 mask with the valve is designed for comfort and is for use to prevent build up of heat behind the mask. So it is designed to filter incoming air only. 
*Please note: this mask is not to be used by anyone with the virus or expected to have, as the valve allows the air to escape.
Package of 4 masks (individually wrapped).
One size fits all
Adjustable nose clip
Ear band sealing design
5-layer filter guard protection

Non-Woven Outer Layer - the top layer of the mask filters out almost 98% of airborne particles, dust, seasonal allergies, smoke, car exhaust, pollution.
PP Cotton - isolates dust
Activated Carbon - absorption of dust, peculiar smells and harmful particles.
KN95 Melt Blown Layers - effective filtration of smaller particles.
Skin Friendly PP Cotton - skin friendly, filter missing particles.

Exhalation Valve - an aerodynamic bonnet style valve helps guide the air flow.

Valve Closed on inhale - Good air tightness & blocks the entrance of polluted air.
Valve Open on exhale - Lower respiratory resistance & easy to remove heat and moisture.
Standard: GB-2626-2006
Type: ear-loop   4-ply Size: 10.5 × 14.5 cm
Filter efficiency >95%
Shelf life: 3 years
Application: Anti-Virus Protection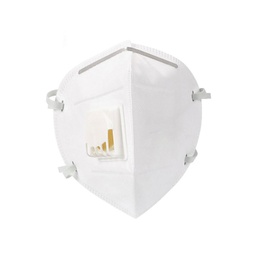 KN95 smoke and dust anti-bacterial Mask w/ Exhalation Valve (12-pack) excellent for forest -grass fires