V-Strut Vehicle Rescue Stabilization System
Frontier V-Strut is a unique shoring & stabilization kit, for traffic accident rescue operations. We recommend using more than one V-Struts to stabilize a vehicle.
Frontier V-Struts consist of a Foldable handwheel, Tensioning belt reel, Belt tensioner, Auto-lock clip, Serrated multi-purpose head, Base plate, Snap hook, Steel hook, Protection cover around tensioning belt. Retracted length 1080mm (42.5in) Extended length 1800mm (71in) weight 11kg (24lbs) Max load 16Kn/1.6 tons
How to use the v strut
Take out the V strut and put the base plate on the ground.
Adjust the tilt angle of the strut and pull the serrated multi-purpose head to the required length to prop the vehicle.
Separate the snap hook with D-ring, hang the steel hook on the lower part of the vehicle, and pull the snap hook onto the D-ring.
Adjust the position of the protective cover around tensioning belt so that the tensioning belt is isolated from the sharp corners or high temperature parts of the vehicle.
Step on the base plate with your foot, hold the serrated multipurpose head with one hand, and pull the tensioner back and forth with the other hand until the tensioning belt is tightened.
After use, lift the handle of the tensioner, loosen the tensioning belt, press the clip to retract the strut, and remove the steel hook.
Pull back the handle of the foldable handwheel and rotate the tensioning belt reel to roll up the tensioning belt. Finally, put down the handle of the tensioner and finish.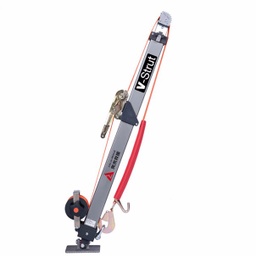 V-Strut Vehicle Rescue Stabilization System