Fire-Dex Wildland Tech Rescue Gear - Dual-certified to NFPA 1977 and 1951. 2pc coverall
Dual-certified protection that provides comfort and convenience for a variety of rugged technical rescue responses and for wildfires.
Dual-certified to NFPA 1977 and 1951.
Jacket
Durable and protective collar
Fully-concealed snap closure
Patch pocket on left and right chest with integrated pen pocket
Additional pen pockets on right and left sleeves
Pants
Double layered fabric in knees for added reinforcement
Elasticized waist with dual belt loops on front and back
Reinforced seat and crotch gusset designed to minimize chaffing
Articulated knees for ease of movement
Rugged inseams to prevent thighs rubbing
Hidden knife pocket & storage for Incident Emergency Plan (IEP) guide
Two rear patch pockets with flaps
FEATURED FABRIC: TECGEN51
Unmatched radiant and flash fire protection when paired with TECGEN51 fabric, which also features the highest THL of any fabric in the industry. Available in Navy, Tan or Black.
OTHER FABRIC OPTIONS:
Sigma™
Improved comfort & radiant heat protection vs traditional Nomex® IIIA. Available in Yellow for shirt only.
Nomex® IIIA
Dependable protection against fire hazards. Available in Navy, Yellow, and black.
Westex DH
Great moisture management and highly breathable. Available in Navy.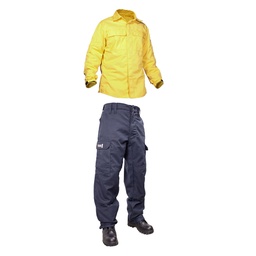 Fire-Dex Wildland Tech Rescue Gear - Dual-certified to NFPA 1977 and 1951. 2pc coverall