Camlock x Threaded Adapter
These aluminum cam-locks are manufactured from aluminum alloy 384 (JIS grade ADS12) and feature type 316 stainless pins, forged brass handles, and plated steel finger rings. G65 couplings fit MIL SPEC 27487 in sizes up to 6" and will interchange with other couplings that meet this specification. Female couplers are supplied with locking clips. 
Note: Cam-Locks should not be used with compressed air or other compressed gases.
Aluminum Working Pressures
| | |
| --- | --- |
| 1" to 2" | 250 PSI |
| 2.5" to 4" | 150 PSI |
| 5" to 6" | 75 PSI |
Standard gaskets are rated to 105°C (221°F)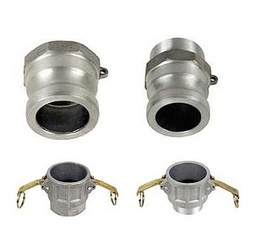 Camlock x Threaded Adapter