Hard Suction Mount Kit - UNISTRUT – 10′ SOLID TRAY
Securely store one hard sleeve on the side of an apparatus or other vertical surface.
Includes one solid 10′ aluminum tray, two heavy-duty nylon hook & loop straps (Model UMVS-1625-11), four footman's loops, and two rugged cast aluminum Unistrut mounting brackets.
Note: Mounting to a 1-5/8″ Unistrut channel (not included) will require 3/8-16″ strut channel nuts (not included).
Note: Due to length of the tray, Model HSM-U must be shipped via motor freight. For shipping via UPS or FedEx, see 10' Split Tray Model HSM-U-ST.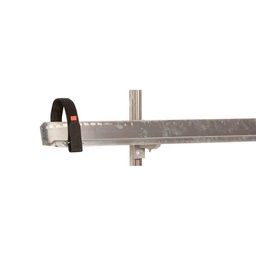 Hard Suction Mount Kit - UNISTRUT – 10′ SOLID TRAY